We're moving…sort of… to full time travelers!
So we are moving, sort of! I've always had a big appetite for change, things moving forward and new adventures. I think I'm scared of things staying the same. To me, change is a good thing most of the time. Since graduating college in 2008, things have changed quite a bit. I started a corporate job in Charlotte, NC. A year later they moved me to NYC. 2 years later I left to start Brittany Lauren Photography. 1 year after that, we moved back to Charlotte where I opened my first physical studio. A year and half later, we got married. 6 months after that, Jordan left his corporate job to pursue his dreams of the PGA Tour, and 5 months later, here we are.
We recently bought our second home – a 30 foot travel trailer. Jordan and I are hitting the road as full time travelers starting January 2, 2016. Our little house on wheels is currently under construction to be better suited for full time living, and to make it way prettier. I'm not much for patterned wallpaper with couch cushions that match.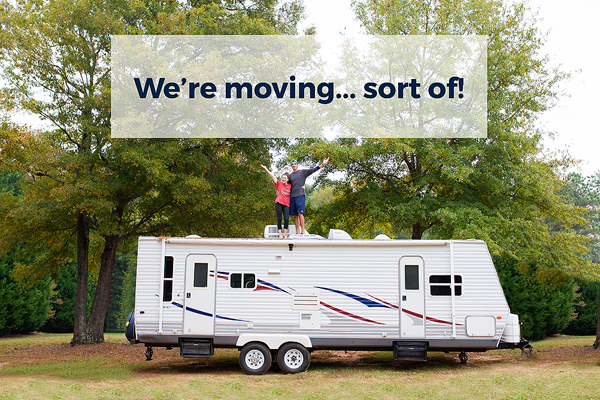 Why?
Jordan is currently working towards becoming a professional golfer, which requires being outdoors all year round. When Winter comes to town, it's not the best weather in North Carolina for golf. Jordan and I were talking over dinner about options for the winter. He mentioned he could travel back and forth from Florida for different mini tour events, but I didn't like the idea of being apart so much, so I asked if there were any other options. He threw a few out there, one of them being mini tours out west! My brain started turning and my heart was instantly so excited. I thought it would be a great chance for us to travel together while he pursued his dreams and, secretly, one of mine – traveling the US for more than 2 weeks at a time.
At that point, the camper wasn't part of the picture and we had no idea how or if it would all work out. Over the next few weeks, we prayed over it and saw God moving things in our lives. We knew this was something we were meant to pursue, so here we are. After months of searching for the perfect little house on wheels, we finally found her. We'll officially name her once the renovation is complete.
The Deeper Why
When I was younger, I wanted to buy a VW bus and travel the country to see everything I could. I've always wanted to be on the open road for an indefinite amount of time. Our world is beautiful and I want to see as much as I can while I'm here. I truly want to live more simply, enjoy each other without all the noise of the day to day, discover the open road together, get back to the basics and focus on what matters the most.
We've already started purging all of our things to fit in a 30ft x 8 ft camper. It's been invigorating getting rid of things that I never needed in the first place. After cleaning out just my clothes and shoes, I was so ashamed of everything I was getting rid of. So much money and time spent buying things I barely use and didn't need. That time and money could have been spent so much better. We grow up thinking we need more, and must have things to validate some kind of status and lose ourselves in the process. Prepping to move into such a small space has brought clarity in so many areas of my life.
What we truly need is simple – food, water, shelter, clothes and love. I know that if I spend less time trying to keep up with possessions, I'll have way more time to share, be present, and love on people. That's what God commands us to do and I want more time for that. I want to be there for my husband, my fur babies, my family, my friends, the creatives that trust me to help them, people I don't know and things I'm called to. Of course I could do that here, but we're hitting the road for now. When we get back, my goal is to carry it into our day to day.
What does this mean for Brittany Lauren Photography?
This is a bitter sweet one for me. Brittany Lauren Photography is still in existence and will stay that way, but I'm going to temporarily close the studio in Charlotte while we're on the road. I struggled with this for weeks until I found out the building my studio is in was being sold, which meant I would have to relocate by January. I truly believe that was God telling me I was right where I was supposed to be and gave me peace around taking time off to be with my husband.
I know this will affect my business in many ways, but I have amazing photography friends here in Charlotte that will be taking wonderful care of all of my clients. I know some won't stay with me once I'm back and some will. I have fully prepared my heart for that. I've already started experiencing all the emotions.
One of my clients emailed me just the other day to tell me baby #2 will be here in early 2016, that they were so excited about their next session. My heart broke to tell them I wouldn't be here. I've worked really hard to build my studio. I'm very proud of it and love all of the amazing clients I get to work with. It took a lot of hard work to build repeat clients who also refer me to their friends. So to walk away from it all for a period of time is hard. But I'm right where I'm supposed to be.
Will you shoot on the road?
Yes! I will still be shooting, but mostly for Jordan's blog and our travels which I'll document some here and on Instagram. I may take on a few photography clients if the opportunity presents itself, but my main focus will be on Learnwithb.com. I also want to spend some of my time donating my services to organizations involved in foster care and adoption. These efforts are very near and dear to my heart and I want to serve.
How long will we be gone?
We aren't sure yet but most likely 6+ months. It really all depends on how Jordan does in his mini tour events and what we want to cross off of our bucket list. Mine is pretty long so we'll see how things go.
Are we taking our dog?
Ummm of course! We can't leave Ella Griggs behind. She's our baby and I know Ella will really enjoy sniffing her way across the country. We want to show her as much as we can 😀 Geez I sound like one of those obsessive dog moms. Oh wait, I am and totally cool with that!
How will we make money?
We've been asked this so much by friends and family. I know they're coming from a good place, because they just want us to be ok out there. While we're on the road, I'll be focusing on helping creatives with their businesses over at Learnwithb.com. I'm also very passionate about Essential Oils and wellness and get to be a part of an amazing Young Living team – The Lemon Droppers and The Happy Oilers! Jordan will also be playing mini tours as a professional golfer that have cash purses. I might take on some photography clients as well, but overall, these will be our sources of income.
Have we ever done anything like this before?
I've driven across the country twice and loved it, but we didn't have a camper behind us. Neither Jordan or I know much about living in a camper, so we'll be doing a ton of crash courses over the next 2 months. We'll also be trading in one of our cars for a truck, which neither of us have ever owned. Our philosophy is you can't let everything scare you out of following your dreams!
What am I looking forward to the most?
Living more intentionally with less stuff and more experiences, spending a ton of quality time with Jordan and Ella, learning how to embrace a very different lifestyle, the unknown, reading more, waking up in new places all the time and having more time to cook. Maybe I'll start to enjoy it a little more…
Jordan and I are really looking forward to this next chapter. It's definitely a little scary but we're ready to take on the challenge and adventure of it all. Once our renovation is done, I'll be sharing our before and afters, so stay tuned!