2013, you've been awesome!
2013 has been a year of change, growth and blessings.  There have been so many business and personal milestones this year that it brought me to tears (happy ones, of course) to go through every session and personal image I'd taken in 2013 to compile Brittany Lauren Photography's Year-In-Review.  It's hard to believe at the beginning of the year we were living in NYC to now we are back in Charlotte, NC with a studio and office space.
Below is a favorite image from every session, full and mini, that I photographed this year along with a 2013 recap and 2014 plans.  I never in my wildest dreams thought I would be able to put this many images together in one year.  To work with so many amazing families, high school seniors, newborns, children and photographers just completely blows me away.  It touches my heart that so many of you would trust me with such special memories.  I still get nervous before sessions because it's so imperative to me that I do each and every one of my sessions justice in creating these beautiful moments.  20 years from now I hope these still bring smiles, tell a story and move you.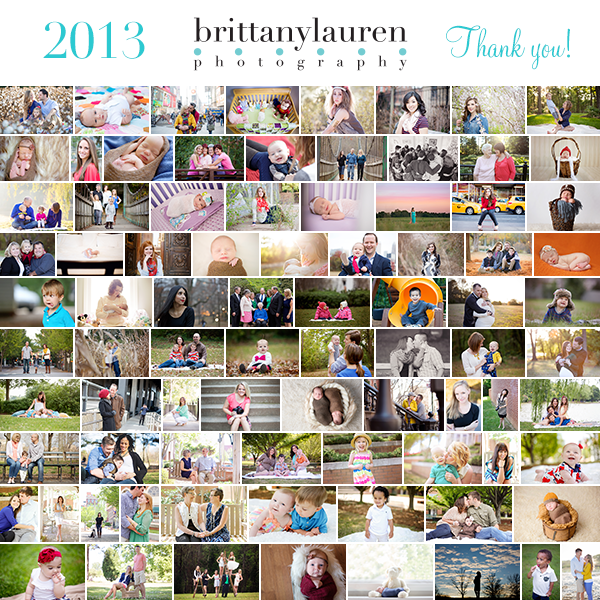 2013 in a nutshell
•  Taught my first Intro to Photography class then another in the new studio!
•  Attended WPPI in Vegas which was such a great learning experience with so many talented photographers
•  Hit my official 1 year in business as a full time photographer – WHOA!
•  Moved from NYC and started fresh in Charlotte, NC
•  Opened a new studio and office space in Dilworth
•  Worked with my first intern.  Megan you're awesome!
•  Had our first Senior Model Reps Class of 2014
•  Created the Natural Beauty Project with the fabulous Melissa Hunt.
•  Jordan proposed during a visit to NYC and the lovely Michelle Lange was there to capture it.
•  My very best friend, now Maid of Honor too, Melissa and her husband started their adoption journey. We had a few fundraisers throughout the year for them and now they are in Uganda to bring home their very little boy.

2014 has BIG plans
Business
•  Blog more and share about the business side of things.  I still have a desire to use my business degrees in Accounting and Finance but merge them with my passion of photography.
•  Release my first photography product to help photographers with the numbers is all I'll say for now 🙂
•  I love working with Seniors so this year we will be expanding our Senior Model Program in Charlotte and my goal is to photograph more High School Seniors!
•  Design creative shoots just for me that inspire and break outside of my normal box.
•  Create and stick to a weekly work plan that includes putting time aside specifically for the things I normally put off like reading a photography book or watching a tutorial I purchased but just filed away for when I have a free minute.
Personal
•  Take time for myself to totally unplug from my business and do personal projects.  I LOVE building and designing things so this year I want to build a few custom pieces of furniture for our new home we are in the process of purchasing!  I also have lots of DIY projects on the wedding to-do list.
•  Take off 3 consecutive weeks to enjoy getting married to the man of my dreams in September 2014 <3
•  Grow in my faith
•  Build stronger friendships
•  Learn to be a better cook and do it more often
•  Be in the moment, be more present.  Not so much worrying about posting on social media, keeping up with email and texting when I'm with others.
2013, you've been awesome so I can't imagine what's in store for 2014.  I thank God for all that He has given me and pray 2014 will be just as great.
HAPPY NEW YEAR from Brittany Lauren Photography!